ENJOY FOOD, NOT LIES
A Blockchain solution to know what we eat
Problem
Do you know and can you trust what you eat?
Driven by extra profit, food crimes are often perpetrated in any of the numerous steps that food takes to reach our plates, from production to distribution. They have a real impact on your health, they threaten your believes and your ethics and, of course, your wallet.
Solution
Let us help you.
Stop Fake Food combines the cutting edge technologies of laser, AI and blockchain to create a reliable and efficient solution, and avoid counterfeit products on the spot!
AI & Machine Learning
Our own neural network is designed to learn the patterns provided by Raman Spectrometers and, with the growth of SFF library, will able to identify precisely any scanned product and its composition.
Raman Spectrometry
First, our laser based technology - Raman spectroscopy - is able to read the product through glass or any transparent plastic container, making it possible to scan its composition without damaging the packaging.
Blockchain
SFF Blockchain provides the right conditions for scalability and ensures the integrity and traceability of the benchmark samples. It also ensures the cohesion and structure of the business model.
How does it work?
User scans a product using a Raman spectrometer. Due to laser technology being used, no sampling or directly invasive procedures are required. In many cases the product scanned does not even need to be unpacked – Raman spectrometers can work through many types of glass, plastic and paper, not matter if the material is solid or liquid (e.g. beverage)
User (laboratory or individual) uploads collected Raman spectra into the SFF Platform for immediate data decomposition and analysis. SFF implements an AI technology-driven data analysis system based on Machine Learning methods (neural networks and other). Neural networks which were trained on pure substances are able to decompose provided spectra into individual constituents and determine the ratio of each within the sample.
Once the analysis is done, the user receives a comprehensive report on the content of the analysed product. SFF can identify product type, check key food safety parameters and compliance with existing standards, examine the composition of ingredients and perform a thorough all-round analysis – all depending on the particular needs of the customer and the settings chosen.
The SFF Ecosystem
is the blockchain infrastructure that ensures the rapid growth, cohesion and global expansion of SFF, allowing the business to prosper and the solution to reach everyone.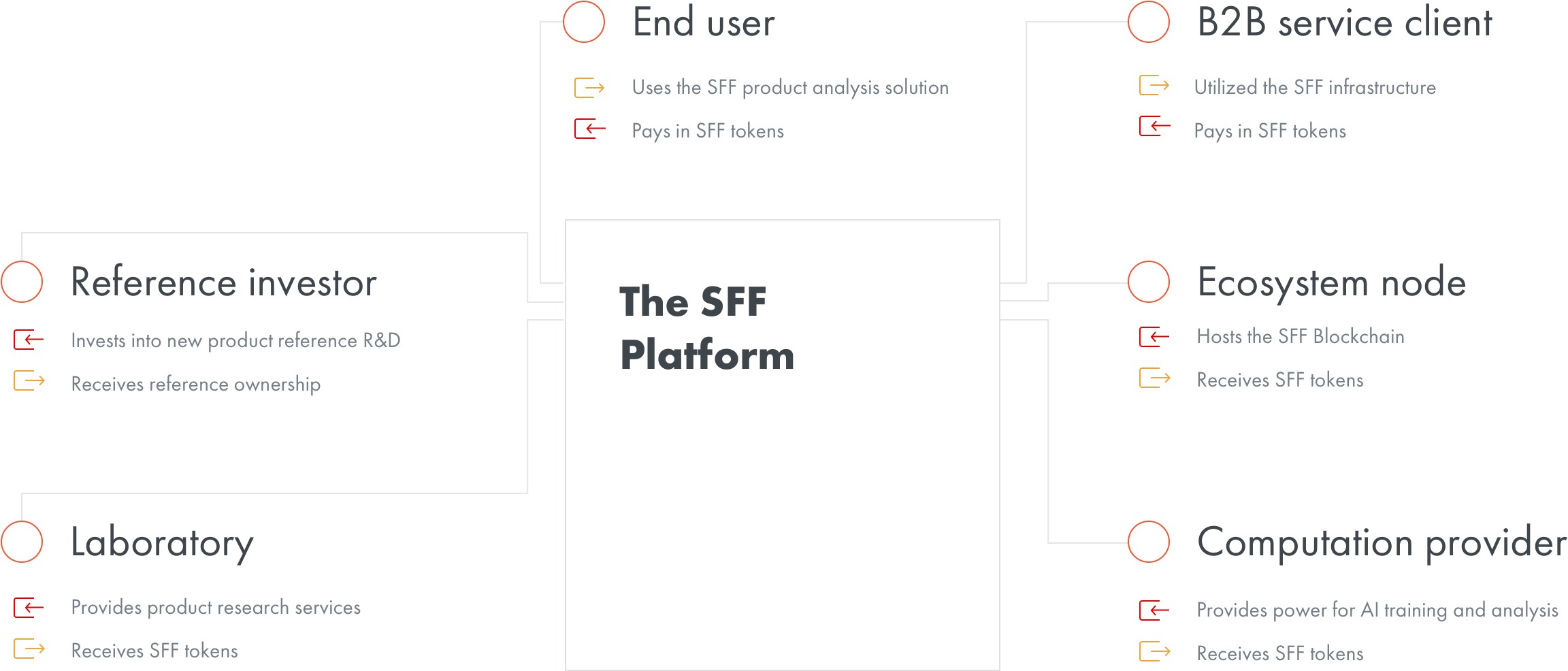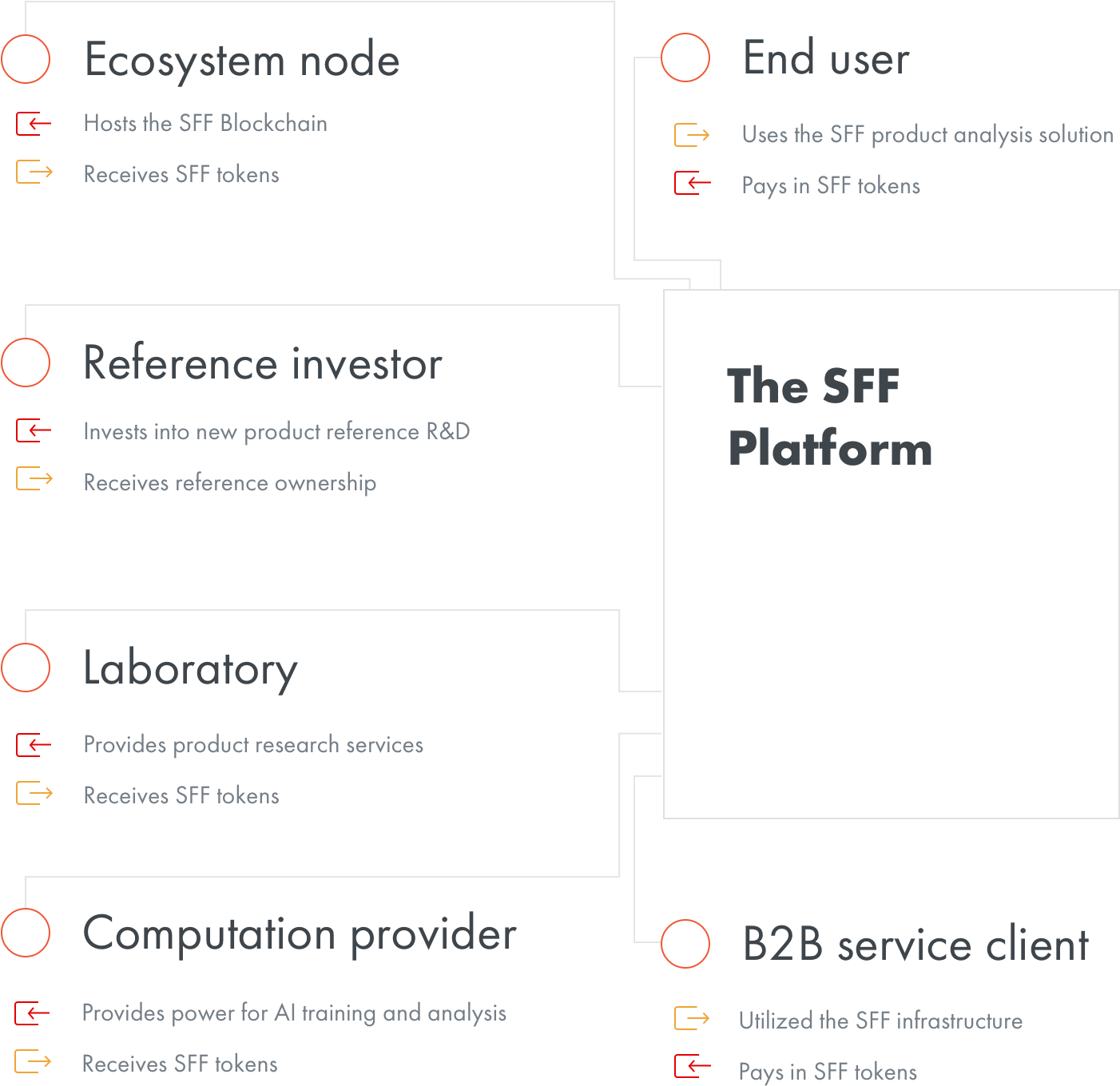 Use cases
SFF is building the world's largest food data market. Meat, fish and olive oil, are just the first research subjects, for being the most mediatic examples of food crimes.
But this is just the beginning, our goal is to cover all the vast variety of food products available to mankind, as SFF own Blockchain Infrastructure is designed for a constant knowledge growth, driven by our neural network and the community input.
Meat
The cheap horse meat used as beef comes from animals that were raised for other purposes other than human-consumption. Its lack of traceability, dubious slaughter or death circumstances and general lack of compliance with health regulations poses a potential danger for food poisoning and human health in general.
Olive oil
In the USA alone, over 69% of imported extra virgin olive oil is fake! Profit margin from counterfeit olive oil is 2,5 times higher than in the cocaine production. Over 5 billion Euro worth of fake olive oil is circulating in the market.
Fish
Formalin, a formaldehyde solution, is still illegally used as a fish preservative. It was found to have carcinogenic properties and was banned as a Biocide by the European Union under the Biocidal Products Directive (98/8/EC), it also presents a risk for Amyotrophic lateral sclerosis and other nervous system impacts as well as respiratory complications
Token circulation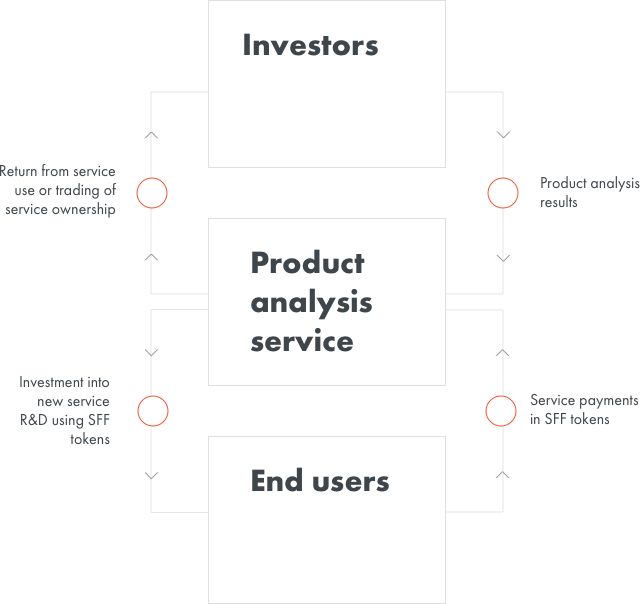 Our team
Stop Fake Food is on a mission to solve the problems plaguing the food industry and to protect consumers from its negative effects. SFF takes on a completely new approach to tackle food crime and creates a solution that combines the newest scientific achievements and technical innovations in Raman spectroscopy, artificial intelligence and blockchain.
Business, Financial and Legal
Science and Tech
Blockchain and Development
Show all